About books > Vol. 3 >
Book Description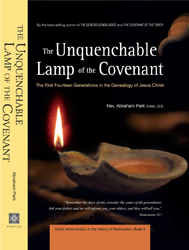 Pastor Abraham Park deeply moved the religious world at each publication of his book series of the History of Redemption; The Genesis Genealogies in 2007 and The Covenant of the Torch in 2008. In this year of 2009, the author does once again and puts readers in admiration with his third book -The Unquenchable Lamp of the Covenant subtitled The First Fourteen Generations in the Genealogy of Jesus Christ. The book begins with "God Who Is Greater Than All" displaying the panorama of the vast universe. Rev. Park claims that the agape love of the God is incomparably greater than the symphony of the universe that operates in perfect order and harmony. Considering that His everlasting love is only to save us, this unfathomably great grace of salvation renders us in a flood of emotions.

The author proclaim s that the genealogy of Jesus Christ is part of God's work of Salvation in which God, the creator "who so loved the world," sent His only son, Jesus Christ, so that the people of the world may "whoever believes in Him should not perish, but have eternal life. He then reveals the redemptive genealogies by comparing the vertical records of 41 ancestors of Joseph's family in Matthew chapter 1 and horizontal records of 77 ancestors of Mary's family in Luke chapter 3. From a perspective of God's redemptive administration, he also provides the historical, economic, political , and religious settings of each important individual in the genealogies. He further enriched the book with the interesting definitions of characters' names, and the explanations of how the names affected their personalities, actions and roles they played in accomplishing Jesus Christ's redemption. At the end, Rev. Park clarifies how God's work of redemption pertains to the salvation of the society in which we live today.

The zest of this book is that it emphasizes God's autonomy and His work of salvation. It strictly relies upon the autonomy of the God: it shows that people in good faith and failures of people in disbelief are all within God's control. The book illustrates that the adminstration of God's redemption has never been discouraged or stopped but continued despite all hindrances and rebellions done by disbelievers, and that it eventually culminated with the coming of Jesus Christ. The author's theology is based on redemption and promise of the God. A conviction that the covenant of the God is everlasting one and that it will be accomplished whatever kind of challenges disbelievers raise is the highlight of this book.